Wedding exhibition in Moscow 2019. VDNH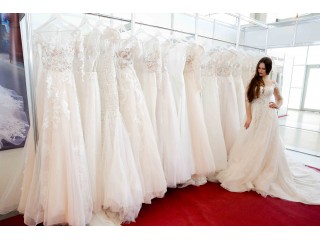 It remains only a few weeks before the incredibly beautiful exhibition at VDNH, dedicated to the trends of wedding fashion. For three days, from 14 to 16 March 2019, pavilion No. 75, in the largest and monumental exhibition complex of the capital, will become a platform for the demonstration of more than 55 thousand wedding dresses. At Wedding Fashion Moscow 2019 registration of participants is already open, and for those wishing to be in the most romantic fairy tale there is an opportunity to purchase an entrance ticket.
Who is invited
It is possible to list all the actual participants, but not within the framework of this review . We will mention that it is more than 300 companies, more than 20 countries, more than 75% of Directors of all wedding networks and salons of the Russian Federation. The scale is really grandiose, there is an opportunity not only to exchange experience, but to anticipate or understand trends for future seasons. There will be collections from famous manufacturers:
Dolina Mod, Ulyanovsk (to download the invitation)
From European countries;
Canada and Israel;
From the Australian continent;
Nearest neighbors-Belarus and Ukraine;
Poland, Romania and Latvia;
UK and India;
Croatia, Slovakia, UAE, Palestine;
China, Armenia, Malta, Jordan.
The organizer of this Grand show is the company "inter Expo", which has repeatedly held such events in the capital, Almaty and Yekaterinburg. Director of the exhibition – Tatiana Negara, participation in the exhibition registers Marina Myasnikova.
It is possible to make an application in Russian, English, Spanish or French. Vladimir Kalinin is responsible for advertising in the magazine "Wedding style", which has been cooperating with the exhibition for many years. Information partnership is discussed with the expert Evgeny Mazitov. All contacts of responsible persons can be found in the Telegram channel, as well as on the pages of the exhibition in the social network VK.
Scope
Registered participants of the exhibition Wedding Fashion Moscow 2019 will give the opportunity:
Get acquainted with the trends of wedding fashion, as well as with new partners;
To find customers, new trends in marketing;
To get acquainted with a large number of potential distributors, to negotiate the conditions, as well as to conclude new contracts; Make a statement, maintain your own trading name;
Demonstrate their own products to professional buyers of large wedding salons;
Replenish the customer base.
For someone it will be important to analyze the specialized wedding market, with its new trends or traditional school.
The exhibition will begin with the contest "Golden thread" of young designers, where six winners will be available training and education in European or Russian modern design academies.
The contest organizers have established their own rules. The participant must provide at least three models: a wedding dress, an outfit for a bridesmaid, and an evening dress.
The best will be selected for the third stage, the winners will be determined in the gala concert on March 14. Participants will be selected not only by a professional jury, but also by Instagram subscribers.
It is the March fashion shows "Fashion Wedding Moscow – 2019" that are the most productive, because they are held before the official wedding season, and already August fees help to determine the fashion of next year.
Press and information partners
The event attracts many participants who not only meet and attract new clients, but also want to promote on the most relevant and popular wedding portals. The exhibition has three
General partners:
BridalPro - Internet service of closed type, access to which are all connected to the resource. World wedding brands place their collections here, there is a direct communication of
customers and manufacturers;
Registry office-info-specialized Agency of information and advertising;
Svadba.ru -full online catalog of wedding services, from feature articles to wedding calculator, a list of photographers, rings and communication couples.
More than 60 media partners – the magazines and 20 websites. Another main partner of the magazine "Wedding style". This annual event attracts new subscribers, so almost half of the future exhibitors come through the magazine.
The partner offers to advertise on their pages to introduce the goods and services of stakeholders, as well as to get new customers. Keeping your hand on the fashionable wedding pulse along with the" Wedding style " is easy.
Quality, luxury, materials, non-standard combinations, new ideas - all this at Fashion Wedding Moscow, which will be held on March 14-16, 2019 in pavilion No. 75 at VDNH, in large numbers. Fashion, which descends directly from the professional catwalks, becomes a new benchmark for the newlyweds of many countries, continents, cities.