Participation of "Dolina Mod" in the wedding Fashion Moscow 2020 exhibition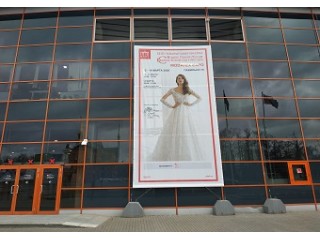 From March 12 to 14, Moscow hosted a major international event, Wedding Fashion Moscow, dedicated to the latest events and trends in wedding and evening fashion in Russia. Along with hundreds of successfully developing brands from dozens of countries, the team of the "Dolina Mod" Atelier-Studio proudly demonstrated the latest creations of our designers to the Russian public.
We have been preparing for this important event for a long time and have taken a serious approach to choosing our best models and products. We have always known that our customers love us for our quality and boundless love for their work, but the results of the exhibition exceeded all expectations!
Tired but happy, we returned and now we want to thank everyone for their support and nice words! We have never received so many compliments and rave reviews! It is impossible to Express in words all the emotions that we experienced when communicating with satisfied visitors to our corner. It was a great honor for us to share with our visitors the models that we had worked on painstakingly for months, paying attention to every detail. The latest collection of evening dresses has become the object of increased attention among visitors, and now we are even more inspired to please our customers with new products in the near future.
The Dolina Mod team highly and cordially appreciated the comments of experts and interested guests, who noted that we have proven to make a great leap in development. This is a sure sign that for more than twenty years we have remained committed to our ideas and continue to move in the right direction.
It was also nice to hear a series of questions from those present: who is our designer? Who do we trust with the most sensitive and responsible part of our work?
All clients of our Studio know very well how carefully we approach our work and are no less sensitive to the choice of those people who will implement our ideas. The concept of a sophisticated and confident woman is at the heart of all the projects of the"Dolina Mod". Our designers are masters who have an infinite love for their work, for their business and are boundlessly willing to share our vision of beauty with the world. This is why the mod Valley team values every employee, without whom such success would not have been possible. We closely follow the latest innovations and trends in the fashion world, and adding a little bit of our personal secrets, we get incredibly feminine and magical images. The team of "Dolina Mod" is a team of professionals who are able to realize the dream of every girl and woman who wants to be irresistible and easy. Prom, wedding, dinner party or going out – we have once again proved that our products are suitable for every occasion and will make the eyes of others light up at the sight of a lady in our dress.
At the Wedding Fashion Moscow exhibition, our collection attracted the attention of a large number of girls on the eve of the prom season. In addition to a lot of positive emotions and weightless inspiration, we also received and continue to receive wholesale orders. If you are also starting to prepare for the prom, and maybe even for the upcoming wedding, or just want to treat yourself to a perfect evening dress, you can buy our products in the retail store chain Shop Dress in Ulyanovsk (https://shopdress.ru/, https://vk.com/shop_dress).
We will never forget the priceless experience that we received at Wedding Fashion Moscow, and we will continue to help you, our clients, realize your most cherished dreams!